Yet Another Great Senior Response
Yes, I know that I just keep adding more and more good work from these senior, but here is yet another. This particular piece of art under one of the bridges along the Indy Canal stimulated a lot of contemplation and discussion both during the field trip and after. I have even suggested that one of the students contact the artist and share her reflections. Here is a second poem that was written by another talented senior at WHS.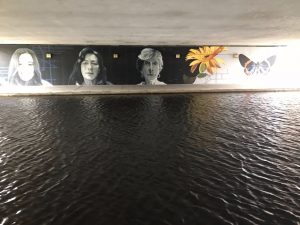 I see the pleasant light ahead of me, I walk in blind, cold, and scared.
I brought my memories and left the pain.
Across the grass so green, the greenest grass I've ever seen,
I jumped and skipped and bounce on air, it was like there was nothing there.
A sky of blue, not a cloud in sight, perpetual day and no dark nights
Every flower in full bloom, undefined colors of every hue.
The streams and rivers crystal clear, no rubbish or decay to be seen.
The sea is calm and turquoise blue, I long to test it, wouldn't you?
The warmest rays cover me from my head to my feet.
A city built of alabaster walls, where translucent light eliminates the halls.
Amazing sights for me to see, I just wander in, there's no entrance fee.
The celestial sun shines forever, it's a perfect temperature all the time.
This ethereal plain is a pure delight, it's my new home, my God given right.
There is nothing here to cause me fear, the Lord protects me as a whole.
An infinity of perfect peace, from the toils of earth I am now released.
I have landed on a higher realm, in perfect harmony to forever dwell.
So believe when I tell you, my dear friends, you cannot die, life never ends.